Body Worn Video Manager Software
Body Worn Video (BWV) Manager is designed to capture video from BWV cameras or equivalent devices and load securely into an Evidence Management store, ensuring the evidential chain is secure
Recording and securely storing video evidence
Body Worn Video (BWV) Manager is designed to capture video from BWV cameras or equivalent devices and load securely into an Evidence Management store, ensuring the evidential chain is secure. This store can reside either in the cloud or on local infrastructure and a variety of ways of storing evidential and non-evidential footage are available.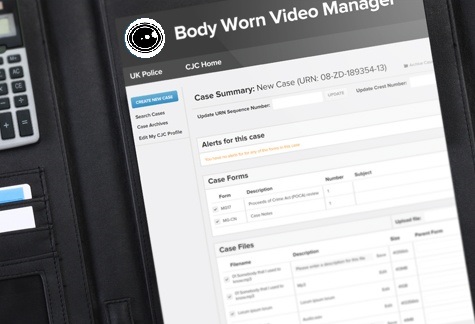 BWV Manager can be used as a standalone program or as part of the Criminal Justice Collaboration Suite. It is a Microsoft Windows-based program that can be installed on desktops that are to be used to capture Body Worn Video footage. It can be used on a single PC or multiple PCs, fully scalable to Enterprise level.
Body Worn Video Manager includes:
Evidence Capture with the assurance that evidence is not lost or modified – the master copy is maintained without modification
Booking out/in process for all cameras
Video editing (e.g. still capture, selecting clips) during the capture process
Full audit trail of activity e.g. booking out cameras, uploading files
Uploads to Cloud based (DropBox, our Body Worn Video Repository) or local disk storage
Open architecture to support multiple cameras and Evidence Stores
Full integration with Evidence Manager for preparation of a full Digital Case File including Bundling capability for preparation for trial
BWV Manager is designed to ensure that information cannot be lost or tampered with during the camera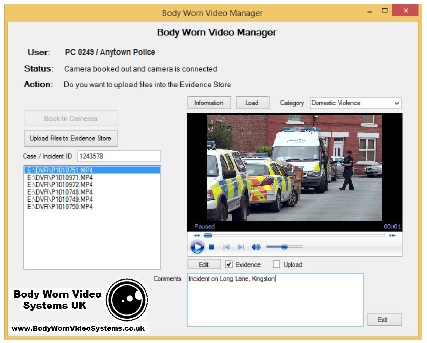 download process, and a full audit trail of activity is maintained – for instance:.
Only authorised users can book out cameras.
Files can only be downloaded by authorised users, from cameras that the user has booked out.
Cameras cannot be booked out to another user until the current user has booked the camera in
A full audit trail is maintained
Digital signatures are generated to confirm authenticity i.e. prove that evidence has not been tampered with since downloading the camera
Body Worn Video Manager is available bundled with selected cameras or as an additional purchase.
Please contact us for more details.
A number of news stories have highlighted the potential risks and concerns that BWV recordings made by some UK Police forces have been stored in data centres outside the UK, and could therefore be accessed illicitly.
All BWV recordings made using our BWV Manager Software are either stored in secure UK Data Centres, or on Premise.
Our software partner has a long history of storing secure information within secure accredited UK Cloud Environments and which are protectively monitored.